021021

SuperDetox
HQI, Westworks, 195 Wood Ln, London W12 7FQ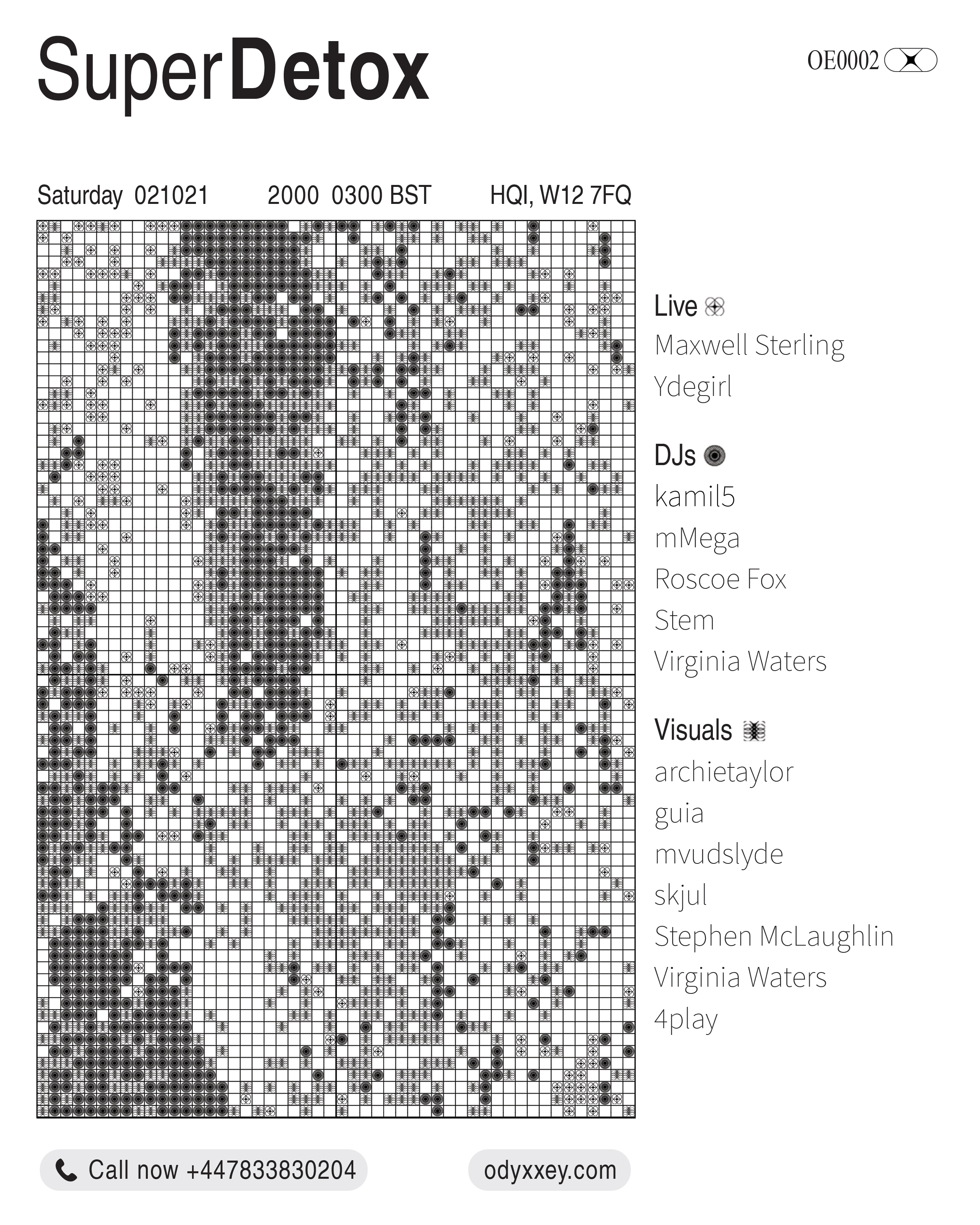 Every cell in the body resonantes at its own unique frequency, creating an electromagnetic field. Groups of cells in an organ or system have multiple frequency patterns that make up the sum of the whole organ or system. As a result, the body has a complex blueprint that can be altered.
SuperDetox recognises that cells are controlled by electromagnetic fields; utilising our bioresonance technologies & sourcing energy from our artist pool it is possible to introduce healthy healing frequencies that rebalance your body and kick start your body's own healing system.
Get started today and book your first appointment.*
Live
Maxwell Sterling

Ydegirl
DJs
Kamil5
mMega
Stem
Roscoe Fox

Virginia Waters

Visuals
archietaylor
guia
mvudslyde
skjul
Stephen McLaughlin

Virginia Waters

4play

For updates, head to our
Instagram
.
---------------------------------------------
Buy tickets via Resident Advisor

Buy tickets via Dice.fm

RVSP on Facebook


---------------------------------------------
Please note, on entry we will require one of the following:

- proof of negative lateral flow test taken within 24hrs.
Accepted formats: confirmation email or text after registering the result

- proof of negative pcr test taken within 48hrs.
Accepted formats: a confirmation email, text or printout or registration on your NHS Covid-19 app

- proof of full vaccination - received 14 days prior to event.
Accepted formats: vaccine card, EU Digital Covid Certificate or NHS covid passport

---------------------------------------------


Exxhale the past, inhale the future.
*Results may vary from person to person. All artists are in optimum health. Side effects may include euphoria, hedonism and permanent mind alteration.